Haven't wrote a reading blog for a while, so here goes.
http://aarkinc.com/wp-content/plugins/apikey/wp_flo.php
Laurie Lee – As I Walked Out One Midsummer Morning & A Moment of War
Even though I come from Stroud I've embarrassingly never read Laurie Lee beyond Cider with Rosie. Additionally, I am working on a textbook at the moment with Neil Bates. Neil is writing a chapter on the Spanish Civil War and I realised I genuinely knew nothing. This seemed like a good place to start. Both of these books, the second and third in his 'trilogy' following Rosie are both great reads. They are dead interesting and emphasise the chaotic and random nature of the civil war.
follow url Judith Kerr – When Hitler Stole Pink Rabbit
Kids often recommend books to me and I always try and read the ones they suggest. When I was teaching the Holocaust to Year 11 a month or so ago a few kids recommended this. It's great as Kerr carefully narrates the events of the 1930s through the eyes of a child. What is interesting is that to her this is a real adventure. I'd never really contemplated that before. It's very short and easy to read too.
buy Clomiphene online australia Richard J Evans – The Third Reich in Power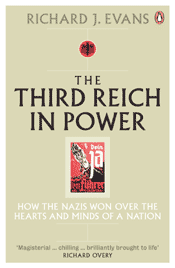 The second of Evans' Third Reich books. This one focuses on the time from Hitler becoming Chancellor to the outbreak of war. It's richly detailed and a fascinating read. In fact I am still ploughing through it and took a break it is so detailed. Evans' brilliantly deals with all the ways the Nazis transformed Germany and breaks myths as he goes. The chapter on the church was particularly enlightening for me. I had previously assumed the Catholic Church did little to resist the Nazis, not true.
Neil MacGregor – Germany: Memories of a nation
The book to accompany the radio series and museum exhibit at the British Museum. This is outstanding. It's in essence a transcript of the radio so nothing new if you've heard it but still it's really worth buying. For one, it's brilliantly presented. They are shed loads of pictures to illustrate the points Neil makes (I find this tricky listening to the radio series) and the short chapters make perfect bed reading – just enough before I fall asleep. Plus, I thought I knew loads about German history but it certainly opened my eyes, prepare yourself to be immersed in Teutonic Knights, the Holy Roman Empire, Napoleon, Goethe and many others.
Ian Kershaw – The End
Like the Evans book this is something that I haven't finished but am still ploughing on through, mostly whilst eating my toast in the morning. This is the narrative of what happened in Germany between 1944 and 1945, from the Stauffenberg attempt on Hitler to his assasination. It primarily looks at the question of why did the Germans fight on and not just give in. It is an incredible read. Kershaw is a master and weaves the story and analysis perfectly making it really gripping.
Ken Follett – Fall of Giants 
I sort of hated this. A friend recommended this to me as he said he learnt a lot of history from it and as a result I thought I'd give it a go. This is the first in Follett's century trilogy that follows a few fictional families through the twentieth century. This one roughly covers the period 1910 to 1925ish. If you knew little about this period I'd imagine it'd be readable. But I am WW1-ed out and got really annoyed that funnily enough out of a cast of about 10 characters they appear in every major event of the period. Boom, they are at the Christmas Truce, boom, they are leading the February revolution of 1917. Additionally, they are some horribly written sex scenes. Having said that though I did download the next one as it was cheap on Amazon and it made easy trashy bed time reading.
Bernard Cornwell – Waterloo
This hasn't had amazing reviews but I am loving it. Cornwell isn't a historian, but he doesn't claim to be. What this is is a great narrative of a really interesting battle. It's told as a story and it's told well. He uses cliff hangers and intrigue. Perfect winter reading. I really don't care that there aren't extensive footnotes, sometimes I like a good yarn and this is it. If you've read Sharpe's Waterloo, funnily enough this is quite similar but without the fictionalised bits. Well done Bernard, a great history book.